THE FUTURE IS HERE: READ FIRST, PAY AFTER
By AnDreea
Apr 29th, 2015
2 Comments
6737 Views



It took one year and a half to turn an idea – a breakthrough one, into OpenBooks.com, a virtual bookstore where you read first, than pay what you feel. As an avid reader, what can I want more? As an author and entrepreneur, I'm willing to give it a try. OpenBooks.com, one of the most brilliant and generous business models presented at the London Book Fair 2015 is a team effort of Michal Kicinski (Founder), Ula Zarosa (Product owner) and Tomek Staniak – CTO.
Ula Zarosa is a blogger and writer and just about to get her PhD in philosophy (good luck, Ula). "I am book geek and a book lover", she admits. Michal  Kicinski is an entrepreneur by vocation . He started with computer games in 1994 (you may know who The Witcher is if you own one of the 7 million copies sold globally)  He also created g.o.g., a distribution platform  for computer games  where files have a fixed priced and are not protected.
People treated well pay back the same.  The problem with protecting digital products like computer games or books is that those who  don't want to pay, will fond a way not too. The legitimate users suffer because copyright protection system makes their life difficult. The games on g.o.g. are rarely pirated. As for eBooks, you can not share or borrow them and you have less rights than if you bought the book in hardcopy. It shouldn't be like that, says Michal.
OpenBooks.com launched at the London Book Fair 2015 and I seized the opportunity to have a quick chat with Ula and Michal about it.
How important are books in your life?
Michal:
Very important. They are a source of wisdom rather than entertainment. Some books changed my life. One of them is
"I Came As A Brother"
by Bartholomew. 
The Way of the Peaceful Warrior
 by Dan Millan is another one.
Ula:
I love
Peter Singer's
books, especially
"The Life You Can Save" 
. We can make a huge difference in somebody's life with such a small effort. I'm trying to get in touch with him. Maybe he will publish with us since he liked our project and supports it.   
How do you select the authors you distribute on OpenBooks?
Ula:
We accept any author who is willing to publish with us. We are open to new authors who are willing to share their work with us. We are also contacting authors from the genres we like the most or sell well. We have a lot authors from self-help and self-development area. We are also involved with
Panoma Press
. But we are interested in extending to other areas such as academic and children books. Authors can go to the website, create an account and upload the file. Than the book goes through the moderation process that lasts 72 hours. We check the form and quality of the book and make sure the author is real. The most special books are featured in editor's choice section.   
Your website is in English. Is there a barrier language for authors?
Ula
: The service is in English but we would like to feature books in different languages and make it a multinational platform. We are also thinking about translating the website into Spanish and French because there are many people interested in that. Everyone is welcome to upload their books. There are cultures we don't know much about,  a very good reason to support writers from different countries. 
Michal:
And the book description doesn't have to be in English.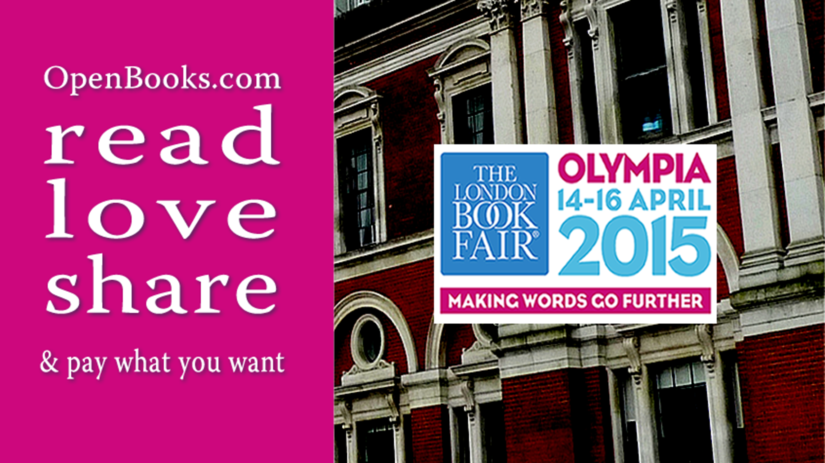 Another particularity of OpenBooks is that the reader has the last word when it comes to pay a price for a book
Michal:
We think books shouldn't be expensive. Although readers can see the recommended price by the author it's up to them how much they want to pay. They may consider that some books are not worth the price and pay less or fall in love with them and pay more. The system is flexible. I think giving to the user the freedom to chose is a honest approach.   
It is for the reader. But is it for the author?
Michal:
We give to the reader the right to disagree with the value an author sets for his work. Our understanding is that when somebody is not paying for a book, that person, in a different system, wouldn't pay as well, or that they are disappointed. Unhappy customer. It's not good to charge that person money, anyway. When you buy other things, like clothes, for instance, and you don't like them or don't fit, you can return them. That's impossible with a book. 
Ula:
People won't pay a dime when the book is poor. But when the work is good, when an author has trust and something important to say and puts a lot of effort in it, people will notice. Not to mention that some of today's bestsellers started as small publishing efforts. I believe the model will work for the people who believe in themselves are truly committed to writing.   
The revenue per book is split in two: 30% for OpenBooks, 70% for the author. How did you reach this quota?
Michal
: This is a standard in the digital media. We are just middlemen between authors and readers. I don't see why we should get more money. We will be happy to decrease the percentage we get in the future, once the service grows and we get some return on the investment to create the service.  I think our service is particularly useful to those authors who are also trainers or coaches or public speakers or teachers. At the end of an event, they can offer the eBook version to the members of the audience. The participants can pass and copy the files because they are DRM-free. And all our eBooks have an embedded payment links inside so the reader can pay for the book while or after reading it  
Will the big publishers embrace your business model?
Ula:
I don't think they will like it because they like enforcing  restrictions. Big publishers created  rigid, close ecosystems with are not good  for both authors and readers. We are trying to change it as well as people's mentality. It may sound idealistic but it already works in other industries. We would like to work with publishers though, maybe smaller ones. 
Michal:
The traditional publishers might perceive it as a threat. Also because they didn't adapt very well to the digital era. Instead of taking advantage of technology and make people's lives easier, they complicated everything. I believe digital content needs to be explored further more. Bottom line, we don't like closed ecosystems and we want to change this approach.   
How is Poland doing in terms of book publishing?
Ula
: The eBook market is rapidly growing because publishers put out more digital books. Statistics show that people between 25 – 35 years old read the most eBooks and that women read more than men.
Michal:
 Poland is an interesting market because most of the eBooks are DRM-free.  
How do you promote open books and its authors? 
Ula:
We use professional PR services in US and UK to promote the website and the authors. We use social media – Goodreads, Twitter and think about approaching bloggers and well. We will issue press releases for authors we support. I think authors should also put some effort into promotion. Journalists love good stories and being approached by writers in person.   
What was authors' feed back at The London Book Fair 2015?
Ula
: Many authors came to us here at the London Book Fair and told us they want to give it a try.
Michal:
The reactions are different. We had positive comments like 'wow, it's a great idea'. There were people asking if somebody  would actually pay for the books. In this system, an average book can not rely on the marketing to make a bestseller. The quality of the book speaks for itself.   
What piece of advice do you have to someone who wants to follow in your footsteps?
Ula:
I think content is king. If you have great content, you'll do great. People want authenticity, they are tired and sick of being told what to do, they are fed up with commercials, they look for something great.   
Related Posts
2 Responses to "THE FUTURE IS HERE: READ FIRST, PAY AFTER"