MEN OF SOUTHERN THAILAND: JOE GAVE UP DJ-ING IN JAPAN FOR A BEACH BAR IN KHANOM
By A.G.Billig
Feb 23rd, 2015
3 Comments
6323 Views



Legend says that the beach in Khanom, a small village on the East coast of Southern Thailand is so beautiful that it makes babies stand up and walk ahead of due time.
It's a little past eight, on a Saturday night. Jam Bay, one of Khanom's hottest bars, is packed. Weekenders took over the hammocks and the chairs carved in wood. It's windy and the sea, so calm a day ago, throws warm, strong waves at the shore. I stop for a few seconds in front of the entrance – a symbolic step made of sand, and I gaze to my right and left at the endless miles of virgin beach, silvered by the moonlight. The party people at The Jam Bay are barefoot or in flip-flops. The sand is the floor, the sky is the roof. On the improvised stage in front of a wall adorned with barred windows and shelves with books in various languages ​​Jam Bay band is already playing live and loud reggae classics. Joe takes a sip of Singha and then begins to swing from one foot to another. He looks discreetly around him. People – most Europeans and Americans, are having a good time. That the songs are sometimes a much too distant version from the original is of little importance. The vibe is perfect. A dark skinned woman beckons at Joe and he disappears into the kitchen. He is used at giving a hand or simply cooking the delicious fried rice with chicken, seafood or vegetables customers enjoys for as much as 70 Bhatt. Meanwhile, the band finishes the song. Jock Mackay, from Crieff, UK, now a professor at Raja hat University in the nearby city of Surat Thani, takes over the mike and the lead guitar. A good-looking Indonesian girl, who's doing her master in agricultural studies at the same school, is applauding heartily.
            "I came tonight because he asked me to," she whispers to my ear. And her trip is definitely worthwhile. Compared to his forerunner, Jock is simply perfect. He plays a rock'n'roll standard that makes people jump to their feet, dance like crazy. Joe, standing now behind the bar counter, is watching. His eyes are shining with joy. His lips are parted in a large smile, which he normally subdues but now unveils a few empty spaces in his gums. A smile that only human beings aware and living their life purpose, are capable of.
After 36 tumultuous years with a business built and lost, a marriage ended in divorce, a son, party time and new experiences as a DJ in Japan, Joe has finally found his life purpose on a piece of beach, here Khanom, not far away from the place he was born and grew up. It doesn't matter anymore that his father disapproves of his new occupation – bar manager, and still urges him to be someone.
            "I wanted to use my experience and create something different for people. Something that cannot be done anymore in more touristic places such as Koh Samui or Koh Phangan. And then, the opportunity arose. A friend of a friend of a friend, whom I had only seen once. Imagine that I was born and lived for many years at a short distance away from Khanom, but until two years ago, I had no idea this place existed." Joe did not hesitate when he was offered a job in the vicinity of the places where he grew up for he believes in destiny: "I live my life without expectations. Everything happens at the right time. "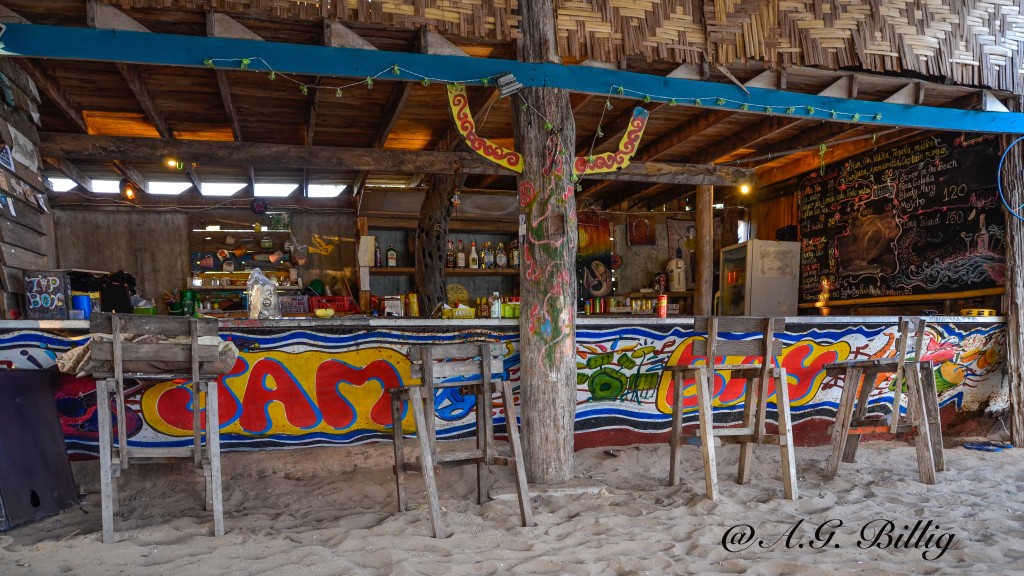 Although Jam Bay is a beach bar, relaxed and unpretentious, Joe had a clear plan and marketing approach from the very beginning. His first steps were deciding the type of customer he wanted to attract and picking up the staff accordingly. He decided to do something for everyone.
            "Everyone is welcome to Jam Bay. Regardless of nationality or music preferences," he adds and invites me to connect my iPhone to the sound system. "Let's listen to something different than reggae."
            Reggae music is very popular among Thais. "Thais could easily be hippies. They are lazy and enjoy many things," jokes Joe. "When hearing reggae, people think of marijuana and drugs, "he says. "But at Jam Bay, there is no such thing. The law is very hard on drugs. It punishes people with death. There is trust instead. Lots of it."
            Joe managed to create a space where guests feel good and secure; where they can leave their things at sight without worrying they will be stolen.
            "People put their wallets and purses on the table, take a bath in the sea, go back and find them there. It's the same if they forget something. We will find it and make sure they get it back." Sometimes, customers make their own bills and, at the end of the evening, put them and the money in a glass jar. This is something that really makes it unique among other bars in Khanom.
            "Locals are a sensitive topic. We talk to them. Try to explain them that foreigners need space. How to be polite and avoid drawing the wrong conclusions generated by cultural differences. Not steal, "says Joe. I tell him that stealing happens everywhere. Even Paris. Still, he will not have it here.
            For someone who spent 15 years around  foreigners, the gap between Asian and Western civilization looks small. Joe admits though that anger built up inside himself  caused by foreigners'  lack of respect  towards Thailand and Thai people. "Maybe the country opened up too fast," he muses.
            "I made the mistake of falling prey to anger, of preaching to others my truth because I thought I was smarter, older, better, more experienced, because I had forgotten that I was young once."
            Jam Bay helped him channel his anger into something useful for other people. It also made the same foreigners not only to respect Thai people, but also love them.
            "Jam Bay is a place where people are in harmony and respect each other. The vast majority of our clients are young expats. One could say they are foolish, because of their youth. But people can be foolish at any age. It is important to have patience, give them a chance to be authentic. "
            Being authentic is a lesson that Joe learned the hard way. Joe was once the DJ. It all started from that his love for music and party and his curiosity to new things (both are a characteristic of Thai people).
            "It's nice when you open your heart and look at the people around you. Than you realize that despite being different, we can love each other. I loved to watch them dancing. Then went home and listened to more music. So I began to like being a DJ."
            Joe made some good friends, formed a team and went to organize parties in Japan. He was 26 years old and going abroad for the first time. One of his actual best friends is from that time. He is French. That stage of his life lasted for a couple of years and ended with his return to Thailand, in Chiang Mai.
            Joe had once his own business. A guesthouse and land. It was a time of his life when he wanted to prove himself. The business failed. He chose to learn a lesson instead of blaming circumstances, life or other people.
            " I will turn 36 soon, but I enjoy life more than ever. I made so many mistakes in my life that I don't think I'm the right person to interview. But I'm lucky that I forget easily. Otherwise, I would poison your soul. Forgetfulness is a blessing. Mistakes, a good teacher. I think as long as people keep smiling, Thailand is Thailand. I do not like people who complain or make comparisons. Khanom will change. Everything changes. So the best thing to do is just enjoy life!"
Related Posts
3 Responses to "MEN OF SOUTHERN THAILAND: JOE GAVE UP DJ-ING IN JAPAN FOR A BEACH BAR IN KHANOM"