The London Book Fair 2015 DAY 2: Brian May's Magic Tricks
By A.G.Billig
Apr 16th, 2015
7 Comments
23072 Views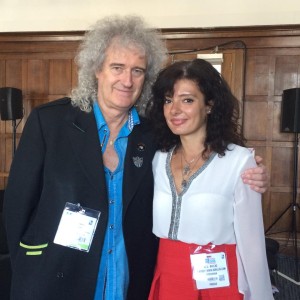 My second day at The London Book Fair was all bout Brian May. There were, of course, other interesting meetings with wonderful and inspirational authors (one of them, Helena Coggan,  is only fifteen, the other is Jorge Volpi, author and General Director of  Festival Internacional Cervantino) Still, I have good reasons to focus on a musician, not a writer. I admit, I am subjective. I love Queen. I think Freddie was a genius and a beautiful person inside and outside. And although he was the frontman, I always appreciated the others members of the band as well. It never occurred to me that I would ever get to meet any of them.
11.20, Olympia Hall, Kensington – I enter the Gallery Suite 1, where the legendary Brian May is about to start in ten minutes a 3-D press conference about his publishing activity. Because, yes, Brian is a book publisher as well. The lights are dim, the air is cold and on a screen I see the logo of "The London Stereoscopic Company". To my surprise the artist is already here and he's quite an appearance with his lion curly grey hair, long tail jacket, blue shirt and sneakers. He greets me, thanks me for joining his event and asks me where I'm from. He does as such with all the people in the room.  There is no pretence in his attitude,  just genuine interest and an open heart.
11.30 – The press conference begins. Brian May passionately speaks about something he holds close to his heart  (besides music and astronomy and animals and common decency): stereoscopy. He discovered the beauty of 3-D photographs as a child.
The magic never stopped ever since, he confesses.
3-D or stereo photographs were very popular during the Victorian era. Some years ago, the musician decided to revive the magic as well as to bring back to life the works of generations of inspired stereoscopic photographers as well as the whole world known to Victorians. Brian May recreated The London Stereoscopic Company, which was worldwide popular in the XIXth century. "A Village Lost and Found" and  "Diableries" are two of the published titles, wonderful books that combine stereo images and words. He shows us the OWL  a modern stereoscope the accompanies each book, as well as unseen images of Queen members. Brian admits being a passionate photographer and taking stereo pictures during the concerts.   I can sense a slight tremble in his voice when he speaks about Freddy:
He liked taking Polaroid pictures. He took lots of them and gave them away. He was such a generous person.
12.00 – End of the press conference. People are gathering around Brian May. Questions are asked and pictures are taken. I stand up aside and wait.  Until, at some point, after everybody got what they wanted, the artist comes to me and asks if I was alright. I thank him for asking, I say yes, of course, and we engage in a brief conversation. There are some many topics one would want to discuss with Brian -astronomy, the ideal society, stereo pictures, animals, common decency. But the time is short. He apologises and leaves in a hurry.
Still, I am happy. Happy to know that one of my favourite musicians is such a great person.
Related Posts
7 Responses to "The London Book Fair 2015 DAY 2: Brian May's Magic Tricks"