I CHOOSE LOVE: A Journey From Fear To Love
By A.G.Billig
Mar 20th, 2016
1 Comment
1707 Views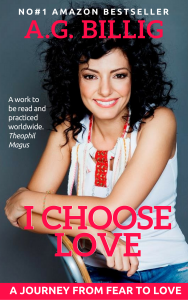 Do you want to enjoy a life of true love and happiness?  This Amazon Bestseller will show you how by providing practical and empowering advice on how to attract more love into your life.
The six techniques presented in this book will help you to:
Experience true love
Master your sexual power
Boost up your self-confidence and attractiveness factor
Feel and look younger, healthier, and happier
Overcome your fears
Enjoy every minute of your life
Understand the hidden mechanism behind people's everyday actions
Read more about the book here.
One Response to "I CHOOSE LOVE: A Journey From Fear To Love"