Book Review: Amanda Prowse – A Little Love
By AnDreea
May 14th, 2015
0 Comments
2851 Views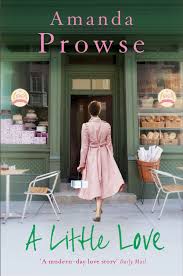 I discovered Amanda Prowse on The London Book Fair 2015 website and saw her talking about her success story during the event as a speaker. She conquered my heart with her openness and generous attitude. Therefore I decided to start reading her books. I confess that such reviews as "captivating, heartbreaking and superbly written" or "a page turning novel of loss and courage" also played in a part in this decision. I started randomly with 'A Little Love' (No Greater Love  series Book 4). And, with all due respect to Miss Amanda's efforts write this book, I was disappointed. Maybe I had too much of high expectations. After all, not everyone is Margaret Mitchell (to mention only one of the greatest love stories ever written).
The books tells the story of Pru Plum, a successful business woman in her senior years with a doubtful past and resembles much to a bad American movie with an improbable happy end: girl meets boy, girl loses boy, girl gets boy back and lives happily ever after. All the other situations and characters – such as a beloved niece death, a talking dead brother, a somehow dissatisfied cousin and business partner appear to me like add-ons that could be eliminated without harming the story, on the contrary. The first half of the book seems like a long introduction, strewn with timid hints at the reasons why Pru can't have a happy love life. The mystery is resolved in a few sentences after – she prostituted for money in order to build her successful business. I would have liked to know more about those times, about her relationship to her dead talking brother and her ex-pimp who still pursues her, it would have added depth to a shallow character that, at 66 years old, behaves like a teenager. Her beau, an important man of the Parliament, a male in his 70's but with the sex -appeal of Christian Grey, swears eternal love to Prue only to ditch her and sell her story to the press the moment her past threantens his career. Yet Pru is so in love and aware of her youth misconduct that she keeps chasing him. Brace yourself for the coup de grace (and the end). The moment that Pru realises that dignity is more than a word in the thesaurus and decides to go on with her life, the man resigns his important Chief Whip position and publicly admits his love to Pru. He puts a ring on he finger, she gladly accepts and that's it. Oh no, there's something more – a delcious recipe at the end of the book, making me wonder if I actually have read a cooking book disguised as a novel.
Amanda Prowse has, of course, her strengths. She can convey emotions through her writing – as she does in the hospital scene where Pru sees her niece dead, and write brilliant descriptions. She can also create worlds with her pen. Should she add more depth to the characters (even their physical appearance is barely sketched – a little bit of hair, a little bit of eyes or long legs, a Channel suit), should the plot surprise me with originality and twists, I might actually become a fan.
As for 'A Little Love', I'm not sure to what kind of persons should I recommend it. Maybe women who like baking and daydreaming about a life they believe they can never have? We all wish for happy endings. I'm not saying they are not possible, they are. But they are the result of a certain kind of journey. And this is a precisely what this book lacks.