A MUST-READ FOR INDIES: "The Self-Publisher's Ultimate Resource Guide"
By AnDreea
Mar 4th, 2016
1 Comment
4055 Views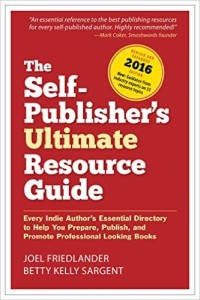 The London Book Fair 2015 was an eye- opener. Authors like C.J. Lyons and Mark Dawson as well as the visionary Michal Stawicki from Openbooks.com made me realize the unprecedented opportunity authors have these days. The combination of self-publishing, worldwide distribution through the Internet, the high number of English-speaking people and the proliferation of mobile device are revolutionizing the book industry. The affirmation "sky is the limit" finally applies to authors as well.
As a communication expert and entrepreneur, I am aware that wishful thinking is not enough. If you are an author who embraces self-publishing and wants results, you need to be equally creative inside and outside your books. You also need to learn to master the self-publishing process and keep up to date with the industry trends. You can read dedidcated blogs and listen to self-publishing podcasts. I started with Joanna Penn's blog and podcast and recently added Jane Friedman, Kate Tilton, and Joel Friedlander. You can also read books. The choice is tough because there are many people on Amazon, who pretend to know the secrets of this business. Among the clutter the books written by  Gisela Hausmann (she's an Amazon Top Reviewer), Joanna Penn, Mark Coker (from Smashwords) stand out.
One of the books I recommend is the Joel Friedlander's recent "The Self-Publisher's Ultimate Resource Guide: Every Indie Author's Essential Directory-To Help You Prepare, Publish, and Promote Professional Looking Books."
Or, in short, the self-publisher's Bible. The book covers in depth the three BIG P's of self-publishing: preparation, publishing, and promotion. Every chapter includes updated lists of services providers. Unlike other resources you may find for free on the Internet, these lists are up to date, complete (name, location, web, e-mail address and sometimes phone numbers) and also verified regarding quality.
Throughout the book, Joel Friedlander answers the WHAT – what is an editor, for example, the HOW – how do you find a good cover designer and how you make sure to get the result you want, the WHERE – where can you find the resources you need and the WHY – why is proofreading an essential part of the self-publishing process. The information is so well-structured that you can use it to build or update your book launch checklist. In the preparation process, focusing on content, covers, proofreaders, writing software (all included in the book), you may forget the importance of networking and building your tribe (through writers' conferences and workshops) or funding your artistic endeavors through grants and funding for writers.  When it comes to promotion, before thinking about hiring a social media consultant, putting together a virtual book tour, send out a press release, don't forget about your author platform – your story, your connections, your author website and social media channels. It is important.
"The Self-Publisher's Ultimate Resource Guide: Every Indie Author's Essential Directory-To Help You Prepare, Publish, and Promote Professional Looking Books" is the kind of book you want to keep on your desk, next to your computer and the Thesaurus especially before starting and after finishing writing your book. Joe Friedlander has put together a perennial guide that you will be able to use for many years. Until the self-publishing industry will change again and books will be a mixture of written word and virtual reality elements.
You can get a sample here.
A few words about the author. In 2010, at 62 years old, Joel Friedlander decided to get back into the industry he left many years prior – independent book publishing. He started a blog, The Book Designer, which focuses on elements of book design like spacing, margin, typography and layout. Joel Friedlander is now one of the key experts in the self-publishing industry. Find out more about him in this interview by Yaro Starak.
One Response to "A MUST-READ FOR INDIES: "The Self-Publisher's Ultimate Resource Guide""