28 DAYS OF JOY
By AnDreea
Dec 3rd, 2018
0 Comments
2201 Views




When somebody asks you what makes you happy, how long does it take for you to come up with an answer? Do you need rack your brains to find it or it's sitting right there, on the tip of your tongue? Is it one thing or you could go on and on for a day and a night? 
By the time November speeded through its last days, I had decided that December will be a month of joy for me. Since everything around is glittery and wrapped in shiny, colorful present paper and the city dresses up in a million sparkling lights and merry Christmas trees stand tall at crossroads and in shopping malls. Since "It's The Most Wonderful Time of The Year" is on heavy rotation again. Why fake Christmas? Why fake the winter holidays? Why not truly experience it? Why not feel and be joyful?
I know, I know. So many questions. But here's the solution. As of today, until 2018 ends, for 28 consecutive days, let's invite joy into our life. Especially if you forgot how joy looks like or feels like or smells like or sounds like. I challenge you that every day, starting today, December 3rd, do something that brings joy to you and something that brings joy to another person.
If you ask me what makes me feel joyful – aka makes my heart sing, I can name a few things: writing, walking on the beach, dancing, Oona the Yorkie, making other people happy, loving and being loved, climbing the red rock of Sedona, sharing my soul and knowledge with other people, going to the gym, singing, listening to the music, connecting heart to heart with another human being. There must be more. I'm going to find out and share every new discovery with you. Please, do the same in a comment below. Please, challenge your friends. Give yourself the most precious and greatest present ever: joy. Let's make this December the most joyful it ever existed.
You can join the challenge on Facebook, Twitter, and Instagram and use #28daysofjoy.
Waking up in the arms of a person who calls you "home." Sharing a bowl of cereals and blueberries and toast with melting butter. Hearing his voice over the phone a few hours later.
Taking a leap of faith and following my heart against all odds because one of the lessons I've learned this year is that love always finds a way. Love for somebody. For life. For people. For your life purpose. For a place. If there is no door, love will make one. If there is no way, love will blaze a new trail. As long as we can faith. If there is confusion, love will bring clarity.
December 31, 2018
JOY FOR ME: 2018
JOY FOR SOMEONE ELSE: me
I usually take some time during the last day of the year to take to think about its highs and the lessons learned. Thinking back to what went on since January, joy, and gratitude fill my heart. I lived perfect evenings. Had three cakes for my birthday. Went to Hawaii for the first one. Finished writing the first novel in a three-book series. Got a contract with Steven Hutson, one of the best literary agents in LA. Helped more authors to successfully self-published through my platform, Self-Publishing Mastery. Forged new friendships and strengthened the existing ones. Laughed till my belly hurt. Fell in love and out of love. Danced until my feet hurt. Became wiser, more patient, perhaps gentler. But also shed tears and sometimes felt my heart breaking into pieces. But what's most important, I relentlessly pursued my dream. Didn't force it; just followed the intuition and the signs, keeping my intention clear.
I realize now that when it comes to wishes come true, it's not about the Universe/God/Source/Creator saying yes to us. It's about us saying yes to our destiny, being brave enough to step out of the comfort zone, out of our minds, and follow our heart.
***************
December 30, 2018
JOY FOR ME: me
JOY FOR SOMEONE ELSE:
Today I take joy in being me. I embrace my heart's wisdom and kindness, my brave spirit, my sharp and inquisitive mind, my healthy and lean body, my curls, my eyes, my theeth, my nails. The light and the darkness. My strenghts and weaknesses. My gifts and my stuborness. My femininity and appetite for creation. My past experiences and my ancestors. I refuse to look for joys beyond the walls of my home, the cells of my body. I realize that often I don't even see myself. Lost in my train of thoughts, in a song I'm listening, in the words I put of paper, I don't even see myself. How are others supposed to see me?
Today, I'm present in me, next to me, I'm me with all my senses.
***************
December 29, 2018
JOY FOR ME: spending quality time with my mom
JOY FOR SOMEONE ELSE: quality time
Today is all about my mom. Taking her to the concert @mariusmihalache.official, one of her favorite musicians, performed at @tnb.ro. Driving her downtown Bucharest to see the stunning Christmas lights. That's the least I can do for this woman who gave birth to me into this world.
Our times together weren't always easy, and storms rocked our ship. But I know she always did her best. She gave me love the way the she was taught to do. She carried me inside her body for nine months. Even though we may live on two different continents, my mother will always be with me. From today on, I honor and treasure our unbreakable bond.
***************
December 28, 2018
JOY FOR ME: yoga class
JOY FOR SOMEONE ELSE: quality time
The end of the year is close, and many people fled to the mountains or exotic destinations to celebrate for the winter holidays. I enjoy driving the empty roads particularly when lights turn green as I'm coming close. I also enjoy Monica's Friday noon yoga class. She's got beautiful energy, a soft voice not to mention my body feel so much better and flexible after each session. I notice that every time I feel even a bit under the weather, it is enough to stretch, dance or move my mody to feel better.
***************
December 27, 2018
JOY FOR ME: a walk in the freezing park
JOY FOR SOMEONE ELSE: a phone call of appreciation
When in high-school, my father used to hang out in this place. I'm not sure he ever walked on the waterless bottom of the lake—like I did today, but he surely rowed many boats across its shallow water.
When I think of my family—my parents, my grandparents, my great grand-parents—and their amazing stories, I feel blessed, inspired, grateful. I feel that I belong. I feel proud of my lineage. For example, I had no idea that my maternal great-grandfather was a First World War hero. So many stories to tell, so many books to be written.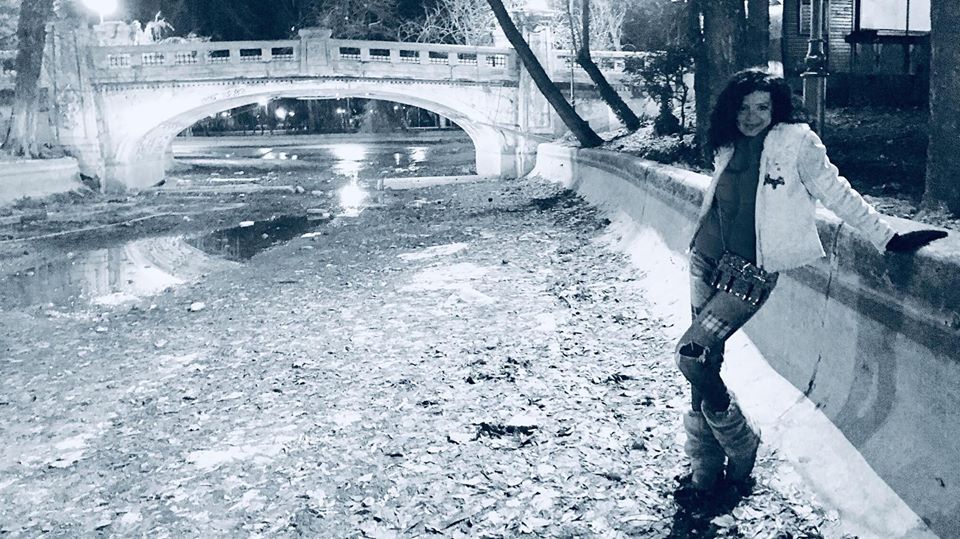 ***************
December 26, 2018
JOY FOR ME: being a host
JOY FOR SOMEONE ELSE: chocolates and books
I didn't realize so far what an honor and privilege to be a host is. To have captured people's hearts so that they can willingly offer me a small piece of their existence and choose to spend a few hours of their day at my house. It's not just about the moment when I hear the sound of the door ring bell but also the hours before. Making sure the house looks clean and nice. And the refreshments are all set so my guests  feel at home, welcome and loved. I need to do this more often!
***************
December 25, 2018
JOY FOR ME: Christmas with mom
JOY FOR SOMEONE ELSE: Christmas with me
Ancient traditions say that December 25th is a day when we receive primarily spiritual gifts. A window in time where we can rekindle the love, joy, kindness, compassion in our hearts. A mother's embrace, the Christmas meal where she poured her heart and soul, remembering happy childhood stories are precious allies in our journey to remembering who we are. That's why spending yet another with my mom is my biggest joy today.
***************
December 24, 2018
JOY FOR ME: silence
JOY FOR SOMEONE ELSE: love
There is something magical about Christmas and Easter time. At Easter, nature bursts back to life while at Christmas, it goes on an inner journey on a mythical and mystical path. I enjoy the silence, the quiet, the magic before Christmas. I enjoy the Romanian carols, the festive lights that decorate my condo.
***************
December 23, 2018
JOY FOR ME: soul connections
JOY FOR SOMEONE ELSE: love
Today is again about her. Video chatting with my soul family in SoCal, proof that distance and time can't break connections between hearts. Being in optimal health. Feeling the warmth of the sun on my skin. Gazing at the full moon. Reading @mirceagoia's interview in the Romanian edition of Vice magazine. So many reasons to be grateful and joyful as Christmas approaches. I'm sure you do, too.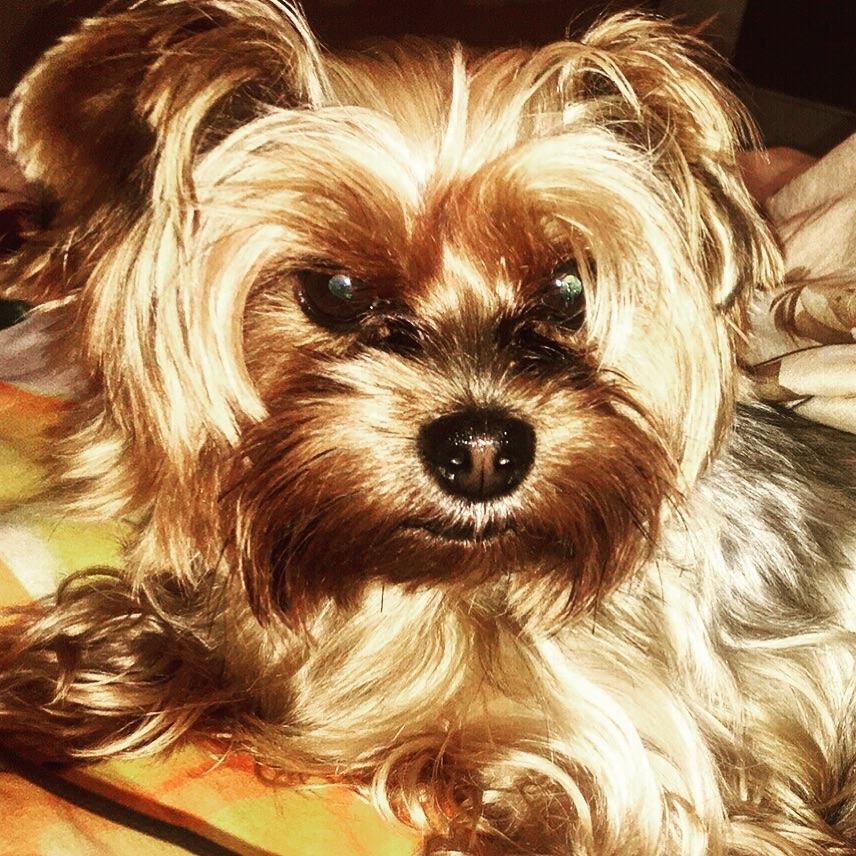 ***************
December 22, 2018
JOY FOR ME: going to th movies
JOY FOR SOMEONE ELSE: appreciation
I admit when I get enthusiastic about something or someone and things don't go as expected my joy fades away. Although I am aware that joy is a state of being always available to me, sometimes I just can't get hold of it–note to myself to write a blog post about the lessons I've learned in the process. However, going to the movies to see Jennifer Lopez in her new movie "Second Act" made me feel joyful.
***************
December 21, 2018
JOY FOR ME: Oona
JOY FOR SOMEONE ELSE: hugs
Today, I was away all morning and early afternoon. You should have seen Oona's joy upon my return home. She always makes this little dance rising up onto her hind legs, asking me to take her in my arms so she can give me a proper welcome kiss on the nose. Her playfulness, unconditional love, and the faces she's pulling never cease to amaze me. Today, she's turning four years and a half, so what better way to celebrate then play together in the Christmas decorated park in our neighborhood after sunset and connect with Mother Nature.
***************
December 20, 2018
JOY FOR ME: harmony
JOY FOR SOMEONE ELSE: smile
Today I realize that one of the biggest joy in life–at leas for me– is to be in harmony with myself, with who I am. Listening to the voice of my soul, which I often call intuition, accepting who I am, stoping being hard on myself, letting go, following my dream. Saying no when I mean no, no matter what. Accepting what is for what it is and having faith that the best is yet to come.
***************
December 19, 2018
JOY FOR ME: dancing
JOY FOR SOMEONE ELSE: hugs
The sky has been gray for the past few weeks and temperatures fell below the freezing limit. But when there is joy in my heart, I get to see the beauty of it. Until recently, joy in wintertime meant sharing a cup of mulled wine with a loved one and snuggling together underneath the warm comforter. But what do I do when I go through a temporary shortage of a loved one during Winter Holidays? Does it mean I can't be joyous anymore? Not at all! Joy, same as love, is a choice. That is until we remember that both are our true nature. Whenever I feel blue, or down I acknowledge my feelings, look for the message then take action to change my vibration. Dancing always works.
**********************
December 18, 2018
JOY FOR ME: shopping for food
JOY FOR SOMEONE ELSE: gratitude
I'm not the type of person who likes to spend much time shopping especially when it comes to groceries and food. Today was different. The grocery store lacked its usual mid-day bustle, so I took my time. As I looked around, I felt gratitude for the abundance and variety of food on the shelves, for having the means to buy whatever I fancy. I also felt gratitude for the shop assistants, for the bakers who make the fresh bread, strangers who make my life a little better every day. As seconds went by, they felt less and less like strangers, and more like family. After all, we are all connected as members of the cosmic family. In the red plastic shopping cart, mushrooms joined green olives, green salad, lemons, tomatoes, and milk. Yes, you're right. A small bag of my favorite chocolate cookies slipped inside the cart, too.
**************************
December 17, 2018
JOY FOR ME: exercising my body
JOY FOR SOMEONE ELSE: offering my help
When I get lost in my train of thought, into blissful memories of the near past or blurry images of my future, joy eludes me. As soon as I bring myself into the present moment, I notice the white roses blossom in the vase. The warmth of my home. A happy smile on a friend's face. I look at my body in the mirror while I exercise the body pump group fitness class movements. I notice it's lean and strong and such good shape, and I feel grateful. All these tiny details we tend to overlook curl my lips up because they are seeds of joy.
**************************
December 16, 2018
JOY FOR ME: human connection
JOY FOR SOMEONE ELSE: human connection
Today, I realized that you can't force joy. Of course, it's always there, within reach, but sometimes you just don't want to reach for it. You just need to stay with your shadow, experience its emotions or just grief what you perceive at that moment as a loss. I confess that I couldn't rise up to the frequency of joy today, and that's okay. Not the way I did the previous days when the bright joy in my heart radiated through my skin pores. I did enjoy though driving. A Whatsup message saying "I'll be home by 4.30-5pm." The scent of Flower Water, the tingling of cleansed energy in my palms, Oona's "dancing" on her hinder feet upon my return home. Had no idea that joy was so powerful it could pierce through the veil of sadness.
*****************************
December 15, 2018
JOY FOR ME: quality time with friends
JOY FOR SOMEONE ELSE: quality time with friends
When we bring joy to other people we bring joy to ourselves. Spending quality time with friends and dear ones is one of the biggest joys I can think of. Connecting with people at a deep level mirros our connection with everything there is in the Universe, nourishes our hearts, and makes us stronger.
*****************************
December 14, 2018
JOY FOR ME: snow
JOY FOR SOMEONE ELSE: a box of chocolates
I'm still in Bucharest, and Friday evening as I jumped in my car, it started snowing. Although at first, the idea of slippery roads and congested traffic made me cringe, I finally enjoyed driving as the wiper brushed the pristine snowflakes from the windshield. There is something peaceful about snow falling over the land, especially when no gust of air disturbs its gentle harmony. Perhaps because it mirrors the perfection of the Universe, a perfection the underlines everything, including chaos and disharmony.
*****************************
December 13, 2018
JOY FOR ME: flowers and chocolates
JOY FOR SOMEONE ELSE: theater tickets
It's been 10 days since I started my joy experiment, and my life already changed for the better. Yes, I still enJOY my time with Oona and dancing and writing and connecting with people. But there is more. Like a box of delicious chocolates called joy (what a coincidence 😊). Or an exquisite flower bouquet. Returning home after dining out to the soft scent of roses in the living room. Sometimes, this can be the beginning of a lifetime journey💕.
*****************************
December 11, 2018
JOY FOR ME: heart-to-heart connection
JOY FOR SOMEONE ELSE: a quince
One of my biggest joy in life is to experience a heart-to-heart connection. That moment when two people get out of their heads down into their heart space and time stands still. In those moments, words become futile, and a whole saga finds its expression in just one glance. There is no doubt in a heart-to-heart connection; no second thoughts or fear or worry. Because the heart is wise and loving and honest.
*****************************
December 10, 2018
JOY FOR ME: soulful conversation
JOY FOR SOMEONE ELSE: concert tickets
Today's joy comes from words. It's about soulful conversations. Playing. Flirting. Being conscious of every word. Feeling the energy behind it. Using it with the intention of strengthening the bridges between hearts. Words may fade into the ether, where they came from, but the silver lining is that we can bring them back anytime.
******************
December 9, 2018
JOY FOR ME: connecting with soul-like people
JOY FOR SOMEONE ELSE: unconditional love
This weekend, I took a self-growth course with an exceptional lady, #danielalucianistor together with other amazing, beautiful souls. Connecting with soul-like people, who vibrate the frequency of love, joy, harmony, and inner peace always makes me joyful. As December unfolds I realize that the more I connect to the joy that's already within my soul the more joy I find in the outside world. It's like a snowball that keeps rolling bigger and bigger. The more of us vibrate joy, the more people can tune into this state of being. So, what's your biggest joy for the weekend?
******************
December 8, 2018
JOY FOR ME: soaking in he sun
JOY FOR SOMEONE ELSE: a smile
I know it may sound trifle, but today the presence of the sun on the blue sky after a couple of cloudy days made my heart sing with joy. So did my morning walk through the park on my way to the gym. The alley I usually take is undergoing a landscaping makeover, and I can only imagine how beautiful it will look in spring.
Sometimes, it takes so little to feel joyful if only we allow it. 💕🙏.
************************
December 7, 2018
JOY FOR ME: spending time wih Oona
JOY FOR SOMEONE ELSE: a hug
Oona has been in my life for four years already, but she continues to amaze me. Each day, our bond grows stronger, our love more intense. This morning, as we took our morning walk in the freezing cold, she made me smile. We live in a dog-friendly neighborhood, so there's a lot for her to sniff around. On fences, on car tires, basically everywhere. You know what I mean. I can only imagine what's going on in her tiny head; maybe something like, "Oh, okay, that golden nasty cocker spaniel got up early again."
Just looking at her, discovering the world with a fresh nose, filled my heart with joy and awe at the miracle of life.
Oona, I promise you a book.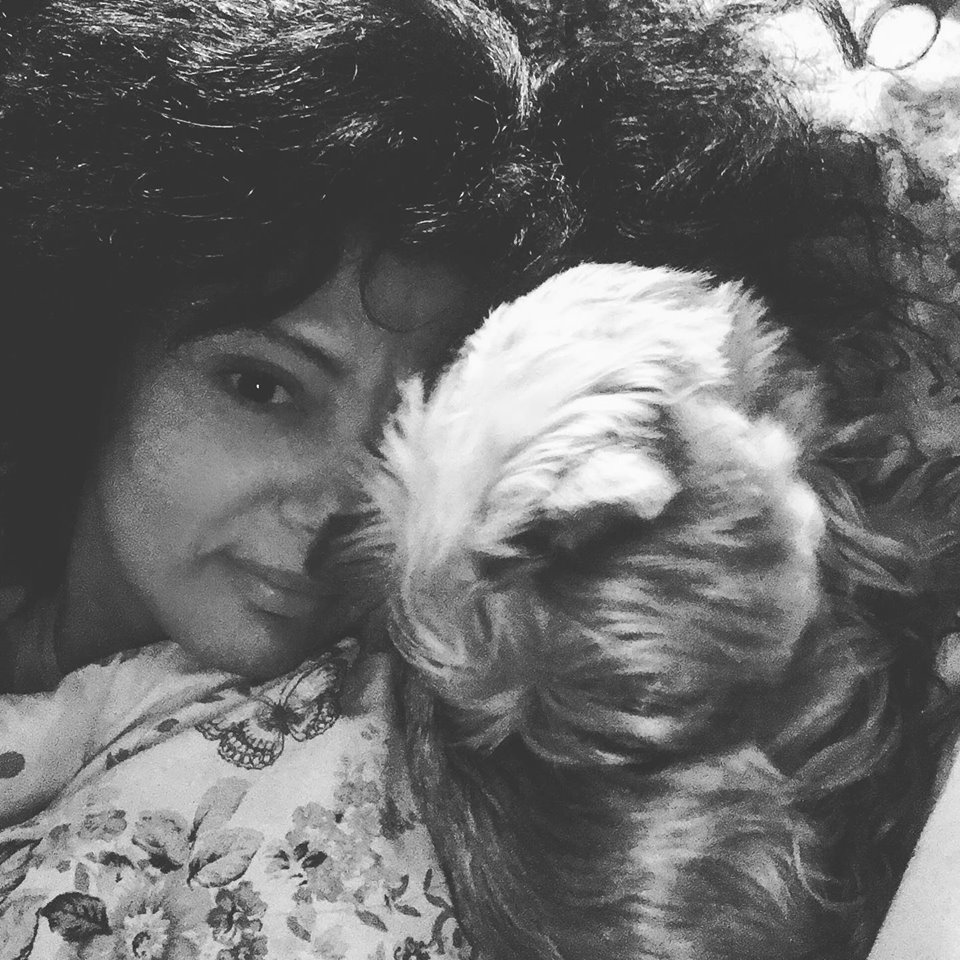 *****************************
December 6, 2018
JOY FOR ME: doing my first Facebook live (can you believe it????)
JOY FOR SOMEONE ELSE: a Christmas gift
Today I did my first Facebook live. It felt wonderful to share some of knowledge, insights, and experience related to life purpose, love as our true nature, the everyday miracle in our life which is our body with the readers of one of the most famous Romanian online lifestyle magazine, kudika.ro. It wouldn't have been the same if I didn't have by my side the beautiful dr. Oana Trifu Bulzan, the editor-in-chief of the magazine and a soul friend. Today's live marked the celebration of our friendship (4-year old according to Facebook, but we know it's longer than this) and the perfect moment to invite the ladies to a retreat for body and soul we're hosting mid-January 2109. Those of you who can speak Romanian can check it here. Three days of pampering yourself at a luxurious SPA, healthy food, nutrition and self-growth workshops, which will boost your self-love and unleash your feminity. How about that?
Today's experience confirmed what I already knew: each time we immerse ourselves into something we love, we replenish our tanks of positive energy. So, I didn't mind at all the crazy traffic back home. On the contrary, I enjoyed the time spent in my car and sang along with the CD playing some of my favorite rock songs. Why are you joyful today? Please, share your moment(s) of joy in a comment below <3.
*****************************
December 5, 2018
JOY FOR ME: playing guitar, writing
JOY FOR SOMEONE ELSE: a hearfelt hug
You see, when I challenged myself to 28 days of joy, I told myself to find my joy without spending money every day. Not because I don't want to or I don't have any but because often we lie to ourselves that a new "thing" will bring us the joy we lack. Well, it's not always the case. I believe that experiences sometimes outrank any object we can buy. So, today I decided to do something I haven't done in a while-practice my guitar. One of the plants on my balcony bloomed despite the cold weather. I immersed myself 100% into writing my weekly articles for kudika.ro and sang along with Queen on "Mother Love." I also hugged someone, out of the blue. And I'm going to call my mom before I go to sleep to tell her I love you and wish her goodnight.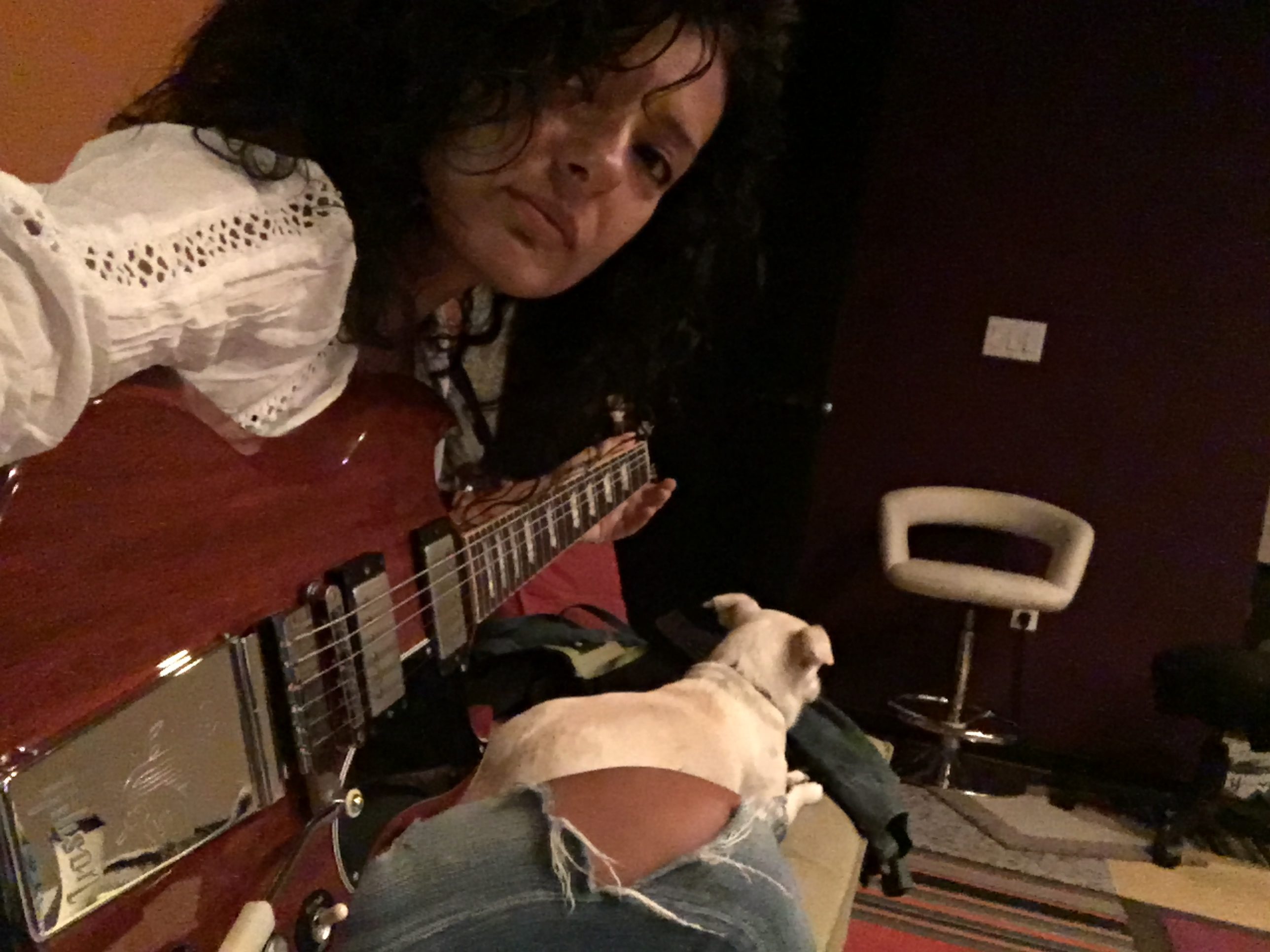 *****************************
December 4, 2018
JOY FOR ME: attending a group fitness class I love, playing with Oona, buying a new dress, saying "I love you!"
JOY FOR SOMEBODY ELSE: saying "I love you!" and being fully present in the moment with that person
As I'm writing these lines, the "I" I'll be a year from now is peering to the computer screen over my shoulder, making my lips curl upwards. I am aware by now that I always change and evolve. I look less and less for answers and solutions outside. I prefer to go deep inside, understand the meaning of the lesson, and continue to spiral up.
It's my second day of the experiment I can tell you that the decision to consciously invite joy into my life already makes a difference. For example, last Friday I quarreled with a person dear to me, whom I consider my friend. Despite my attempt the next day to talk things through, we haven't been in contact ever since. There are moments when I miss him and our bond. When I wish I had spoken different words. Yet, I'm not blaming myself nor do I see myself as a victim or less of a woman. I'm just accepting things as they are and allow us the time to process what happened. And maybe remember that we are one, united in love. Even when the mind refuses to acknowledge the truth, the heart knows it.
In the meantime, I choose joy. The day is not over in Europe, and it just begins in the US. So far, my biggest joy today was to say "I love you!". Each time I say these words, my heart jumps with joy up to the Moon because they express my essence, and I allow myself to express who I am. I said "I love you" to my friends, my mom, Oona the Yorkie, Gilly, one of my favorite group fitness trainers. I was also 100% in the now during our time together, giving her my full attention and my energy. Sometimes, when you don't really know a person, her tastes, likes, and dislikes, that's the best you can offer. As for the dress, well, there is always room in the closet :). Femininity is a precious gift that brings joy to the eye when clad in the right outfit.
*****************************
December 3, 2018
JOY FOR ME: HUGGING A TREE
JOY FOR OTHERS: KINDNESS
I'm back in the city where I was born for the winter holidays. This morning, I took Oona for a longer morning walk than usual. Since the sky was clear and the sun, warm and friendly, we went to the nearby park. It's small but nice, with old towering trees stretching their branches over the cobblestone alleys. I stopped by my favorite one, the first time in a long time, and hugged it. Joy filled my soul. My heartbeat slowed down, my thoughts dissipated, calmness and peace nestled in my soul. The tree surrounded me with its beautiful, loving energy.
On our way back, we walked by a group of men, construction workers, ready to start their work day. Typically, I would have ignored them only this time I said hello and wished them a good day with all of my heart. People can feel the energy we put behind words. They answered back cheerfully.
Related Posts