The Love Test
By A.G.Billig
Jul 14th, 2014
2 Comments
3165 Views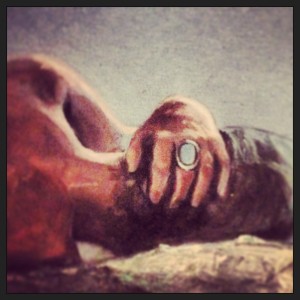 Call me a hopeless romantic but I think that people who are together in a romantic relationship should love each other or else go their separate ways. I'm saying this because I know so many people who are staying in toxic relationship because they mistake love for attachment or habit or simply because they fear they are not good enough or are afraid to jump into the unknown one more time. Spirituality says that love is infinite so you  if you lost that "lovin' feeling" chances are it was never love in the first place but something else (physical attraction, sympathy, boredom, loneliness).
So here are four questions to ask yourself about you and your romantic relationship.  Ask your partner, too. The last time I asked myself these questions and realised I had 4 no's, I decided it was time to put an end to my three year relationship.
1. Is this the person I enjoy waking up next to every morning? 
If you wake up and frown when you see him instead of smiling and wish Robert Downey Jr. or the plumber or the funny guy in the gym was next to you instead, Houston, we have a problem.
2. Is he the first person I run to talk to about my joys and my sorrows?
If the person you're calling is your mother or your BF or your ex-high-school boyfriend, it is most likely you have a couple communication breakdown. In order to thrive, love needs communication and friendship.  I hope you already scored two YES.
3. Is life more enjoyable when he is around?
As long as you love and respect yourself, life is beautiful even when you're single. Or when you do things on your own or with your friends. You have a vision, you have goals, you have your hobbies and maybe, your pet. But every things becomes brighter once you get to share it with another person as whole and complete as you are. On the other hand, if you can't wait for him to go the pub with the boys or wish he went fishing for month, if you're happy when you're with other people and become gloomy when he's around, maybe it's reevaluation time. Hope you 've got another YES.
4. Would you go all the way and beyond for him? 
It's not until recently that I've found out about Turia Pitt's  inspiring story and about her boyfriend's love and abnegation. She almost died in a fire, suffered burns to over 60 per cent of her body and yet, he stayed. I remember an old Russian movie. While she was driving, she hit a man to death. She was a TV star. There were no witnesses so her husband who was in the passenger seat, took the blame and went to jail. In the first case, that man loves the woman beyond her body. In the second, beyond his life. Human beings have this instinct of helping and protecting those in need or in danger, which grows even bigger if he is your love.
So you 've got four no's, maybe it's time to seriously think about moving on. You wouldn't compromise in your career, would you? So why would you do it in regard to your soul?
If you liked this post, you might want to read: Play safe or play with fire
Related Posts
2 Responses to "The Love Test"