BOOKAHOLIC.RO
By A.G.Billig
Jul 2nd, 2014
2 Comments
29570 Views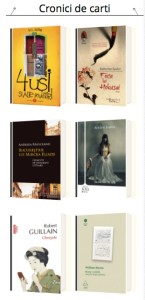 Bookaholic.ro, one of the most popular book blogs in Romania, speaks about my book. There is something I think must be mentioned for the Romanian readers. Those of will have the patience and curiosity to go through the entire article will find out that the book is  ranked among mass-consumer literature because every story has a silver lining. This very silver lining made the initial publisher – a reputed Romanian publishing house dedicated mostly to printing spirituality books, want to include "4 USI AND OTHER STORIES" in the literary spirituality collection.  I really believe that life can be beautiful if we decide to make it so. To me this is no illusion, but reality.
Nevertheless, I  thank the author, Eli Badica, for such a thorough review and nice article, for her honesty and for encouraging me to follow my dream:
"One can feel that A.G. Billig is a writer. It transpires in all her story, in the way she portrays the characters and depicts all the situations."
You can read the review by clicking here.
Related Posts
2 Responses to "BOOKAHOLIC.RO"