A.G. BILLIG JOINS AUTHOR LEARNING CENTER AS A PANELIST
By A.G.Billig
Jun 20th, 2018
4 Comments
1580 Views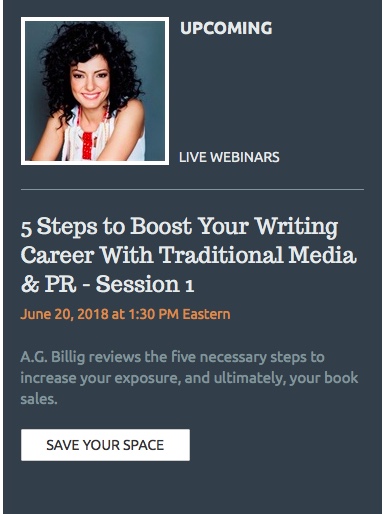 A.G. Billig  joins the prestigious Author Learning Center as panelist for two live webinars on how authors can use public relations and traditional media to boost their writing careers. The webinars will take place   on June 20th  and July 17 at 1.30 pm EST. 
Whether you are a new author or an established author, having a solid book marketing strategy in place can greatly impact your level of success. There are several facets of a good, integrated book marketing campaign. Two key components that are critical – but also challenging for authors to navigate – are traditional media and public relations.
In this webinar session, author and communications expert A.G. Billig will review the 5 necessary steps to increase your exposure, and ultimately, your book sales, through traditional media and PR initiatives:
1. Creating a plan
2. Building your media tribe
3. Building long-lasting relationships
4. Preparation
5. Leveraging your media appearances
You can attend the webinars by registering here.
Related Posts
4 Responses to "A.G. BILLIG JOINS AUTHOR LEARNING CENTER AS A PANELIST"